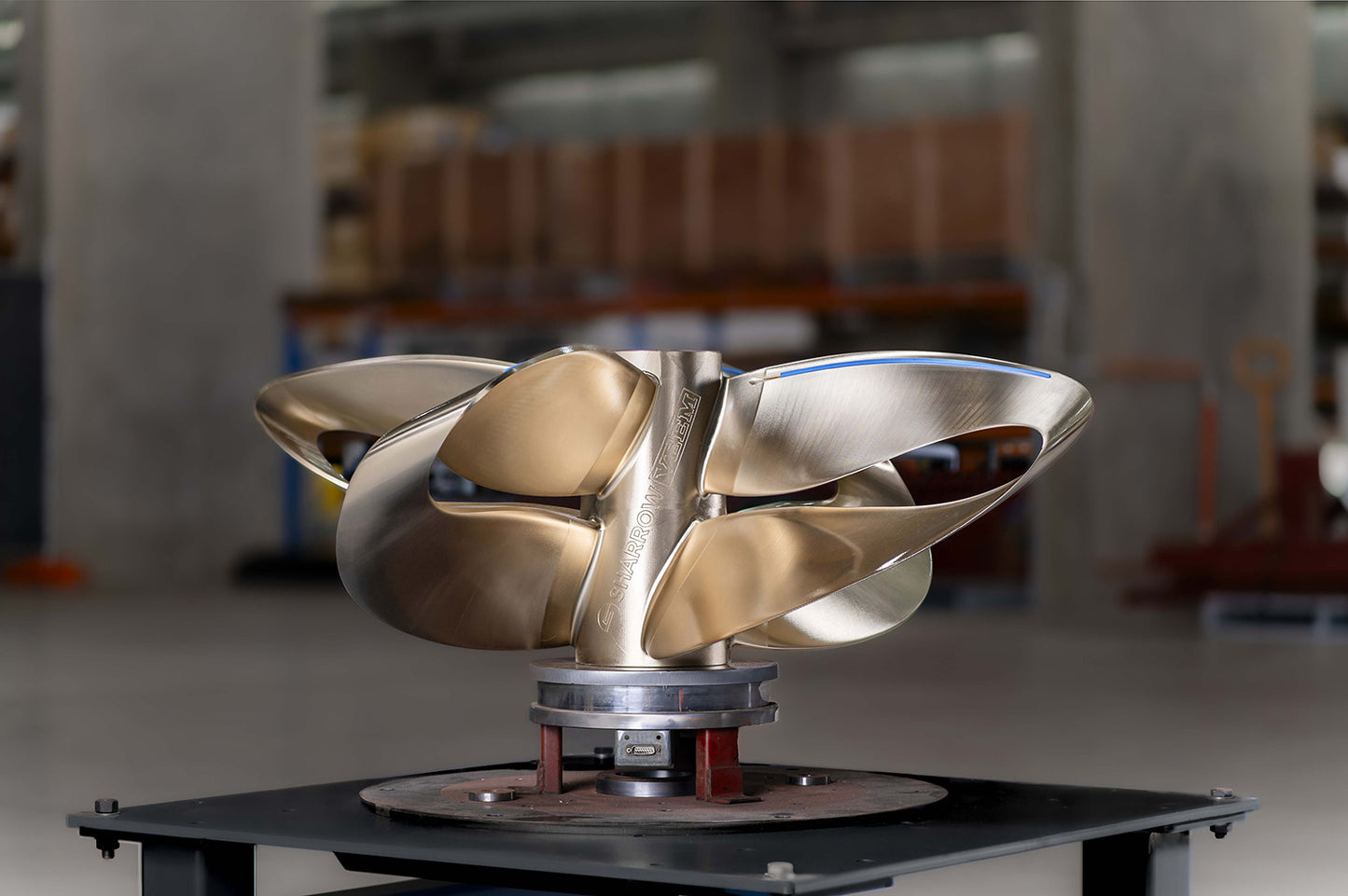 Launch of the SHARROW by VEEM series of propellers represents a historic moment for marine propulsion technology and manufacturing.
Detroit, MI/Perth, AU, October 1, 2023 — US-based Sharrow Marine, a subsidiary of Sharrow Engineering LLC, a leading manufacturer of revolutionary propellers for boats and ships, announced today an exclusive worldwide licensing agreement with Australia-based VEEM Ltd (ASX: VEE), a designer and manufacturer of disruptive, high-technology marine propulsion and stabilization systems. Under the partnership, VEEM™ has secured the exclusive global rights to manufacture and commercialize the innovative Sharrow™ Propeller for inboard propellers up to five meters in diameter. The companies will work together to produce a groundbreaking, state-of-the-art series of SHARROW by VEEM propellers that are dramatically quieter and more fuel-efficient than any inboard propeller currently on the market.
The partnership unites the two leaders of innovation and excellence in marine propulsion and manufacturing, marking a significant moment for the industry. Combining Sharrow's revolutionary propeller technology with VEEM's proven history of manufacturing excellence and innovation across marine propulsion, the SHARROW by VEEM propellers will initially be produced for superyacht and commercial vessels in the 30 – 90 feet (10 – 30m) range. The SHARROW by VEEM propellers will deliver significant fuel savings and a superior onboard experience, with reduced noise and vibration, and improved handling, due to a drastic reduction of tip vortices and cavitation.
"Bringing Sharrow Propellers to the inboard market has long been a strategic priority, and VEEM is the perfect partner for us to do so quickly, at scale, and with uncompromised manufacturing quality," said Greg Sharrow, Founder and CEO of Sharrow Engineering, and inventor of the Sharrow™ Propeller. "The SHARROW by VEEM propellers will provide a superior experience for larger yachts and commercial vessels, representing a true leap ahead of traditional marine propeller design."
"This agreement with Sharrow Engineering is further testament to VEEM's commitment to pushing the boundaries of what's possible in marine technology," said Brad Miocevich, Chairman of VEEM Ltd. "We are thrilled to embark on this journey together to set a new standard for performance and sustainability. We believe this will be nothing less than transformative for the inboard market." 
The new SHARROW by VEEM propeller series represents the beginning of what Sharrow™ and VEEM™ plan to achieve together, in partnership around the world. The SHARROW by VEEM range of propellers will become available to purchase through 2024 and can be ordered directly through the SHARROW by VEEM website or through a growing network of agents around the world.
To learn more about this announcement please visit www.sharrowbyveem.com.
About Sharrow Engineering
Sharrow Engineering revolutionized propeller technology with the introduction of the Sharrow™ Propeller. Invented by Greg Sharrow, the Sharrow™ Propeller is recognized as the first major advancement in propeller technology since the 1830s. Its design has solved the most basic problem of rotary propulsion. Specifically, tip cavitation and vortices have been eliminated or significantly reduced, offering incredible performance gains over traditional propellers and transforming the entire boating experience.
Sharrow Engineering is a USA-based advanced engineering, design and manufacturing firm dedicated to the research and development of revolutionary, high-performance propulsor and flow control technologies. The company's team of world-class aeronautical, nautical, aerospace, and mechanical engineers are dedicated to reinventing the methodologies and technologies used for propulsion and flow control, and leaving the world better than we found it.
Sharrow Engineering holds over 100 patents around the world and is the parent company for Sharrow Marine, a nautical engineering and manufacturing company that produces and sells the award-winning Sharrow™ Propeller for the maritime industry. Sharrow Marine is headquartered in the Greater Detroit, MI area.
To learn more about Sharrow Engineering and its innovative products, go to www.sharrowmarine.com
About VEEM LIMITED (ASX: VEE):
VEEM Ltd is a designer and manufacturer of disruptive, high-technology marine propulsion and stabilization systems for the global luxury motor yacht, fast ferry, commercial workboat and defence industries. VEEM™ is recognized globally as the premium producer of high-performance propellers for inboard powered vessels.
VEEM™ is also a highly successful manufacturer of specialised fin systems and components for defence including the US Navy's LCS ride control foils and submarine valves and mufflers. VEEM™ is currently manufacturing demonstrator propeller blades for the BAE type-26 Hunter Class frigate program. VEEM™ was also involved in the Large Hadron Collider – the largest machine ever built by man and the Atlas Detector's Radiation Shield Doors.
Proudly headquartered in Perth, Western Australia, VEEM™ operates from a 14,700 sqm purpose-built manufacturing facility, including Australia's largest non-ferrous foundry. VEEM™ employs approximately 200 staff in Australia, including graduates and apprentices, and maintains a highly skilled research and development team in-house. Celebrating its 50th anniversary in business in 2018, VEEM™ listed on the Australian Securities Exchange (ASX) in 2016. www.veem.com.au
Media Contact: sharrowmarine@themessinagroup.com